And so this is Christmas….
In the blink of an eye, we are nearly in a new year, and as we look back on the last 12 months, we know there are so many people who contributed to Solemen Indonesia.
The pandemic is over and tourism is slowly returning to our beautiful island, and we are so grateful for our regular sponsors who saw us through these tough times. We welcome our new sponsors who have arrived to help just when we needed help the most.
We have started new programs this year to help generate more funding to sustain the Sole Recovery Centre and Outreach Team, so our work can continue. But more on our new exciting ventures below.
Right now, a few words from Robert and Sarah, our amazing founders with compassion in spades and smiles for encouragement.
"A very big thank you to all our dedicated and passionate team as well as all our loyal supporters. Sadly previous funding from the hospitality industry has been decimated due to the pandemic. We have been forced to massively reduce our regular food parcels causing immense hardship and worrying weight loss and hunger.
However, we are very proud not only to have survived the pandemic but also to have solidified our infrastructure and are planning for an exciting future. To that end we are finalising our five-year strategic plan, recruiting, and exploring innovative new funding streams. Immediate aims for Solemen are:
to create sustainable funding reinstate food parcels at least to their previous levels
continue to provide life changing medication
and to continue to provide life saving heart surgery."
– Robert
"As we approach the end of 2022 , I feel honoured to have been part of the Solemen team who have changed many lives . I am touched by the plights of all our solebuddies whom I am priviliged to know. Some , sadly, didnt make it but I remember them fondly. I wish you all a happy festive season and an amazing 2023." – Sarah
We look forward to bringing you more stories of our Solebuddies next year and we wish a healthy and happy New Year for all.
SoleFamily Team

Room Sponsorship
Did you know by sponsoring a room at the Sole Recovery Center you can support every Solebuddy and their family who stays in that room?
Often when a Solebuddy needs ongoing care and treatment, they need somewhere safe and comforting to stay. Many live in remote areas so commuting for care is not an option. From cancer patients to our heart-kids to ongoing health checkups, our rooms provide a home away from home for those who need love and care the most.
By having a room sponsored, it gives the Solebuddy and their family, dignity and peace while going through tests and treatment, and this lifts spirits during an otherwise difficult time.
For more information, please contact the center: https://solefamily.org/contact/
Lazada Shop
Shop online in our Lazada store and know that while you having fun, you are also supporting Solemen. From Soleteddies to keyrings to swimwear, we have great gift ideas at great value!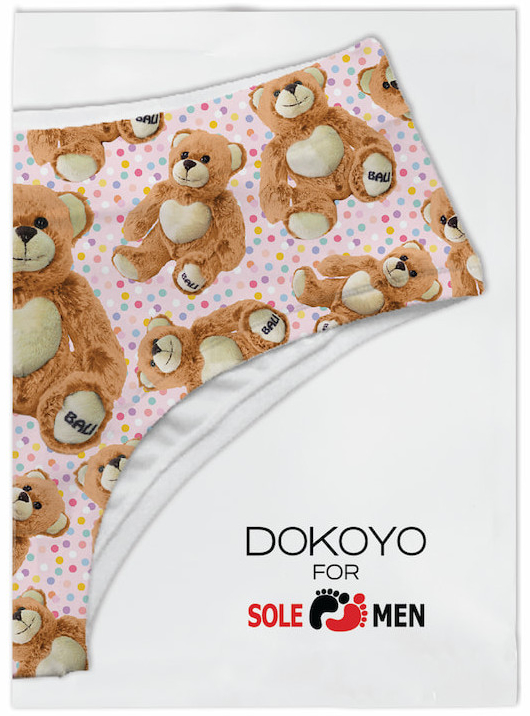 Our Collaboration With Dokoyo
A part of our Lazada shop is also a collaboration with the incredible brand Dokoyo, who turn plastics back into fabric and produce stunning designs on underwear and swimwear.

Dokoyo have created a range just for us and we think it's super cute! Check out some of the range!
Plus, as Dokoyo is such a generous group, they have created a 'one for me/ one for you' program and for every product you buy from them, they will donate a product to people in need. For Solemen, that means that we can provide underwear to families who are financially struggling, giving them hygienic underwear and dignity as we also provide donated clothing.
Auction For A Cause
We have been fortunate to partner with a team who have created an online auction site, where proceeds go to support the SoleFamily.

From holidays to resort stays to artwork and more, there are so many incredible items to bid on and you know that your winning bid goes to help some of the most in need families in Bali. So while you enjoy your holiday or artwork, a family in Bali is getting food parcels and medical care – sounds like a great deal to us!

Click here to check out the auction items and have some fun bidding!

START BIDDING >>
These are just some of the beautiful Solebuddies you have supported this year plus our Outreach team on the road high up in the hills of Karangasem.
The smiles on their faces are because you care ❤️❤️❤️