* Subject to your payment method, you may be charged in your own currency.
If you or a family member need health care, medical care or advice about caring for someone in need, please contact us.
Giving hope, creating smiles and positively impacting over 800 families
A Little Help Can Make A Big Change.
Did you know that just Rp 800,000 can provide a family food parcel for a month? A tin of pediasure is just Rp 300,000? And sponsoring a child's education for the year could be as little as Rp 1,000,000? Every donation, big or small, makes the world of difference to our SoleFamilies.
Every Solebuddy and their family needs our support; and we need your support to be their medical care, emotional support and shoulder to lean on.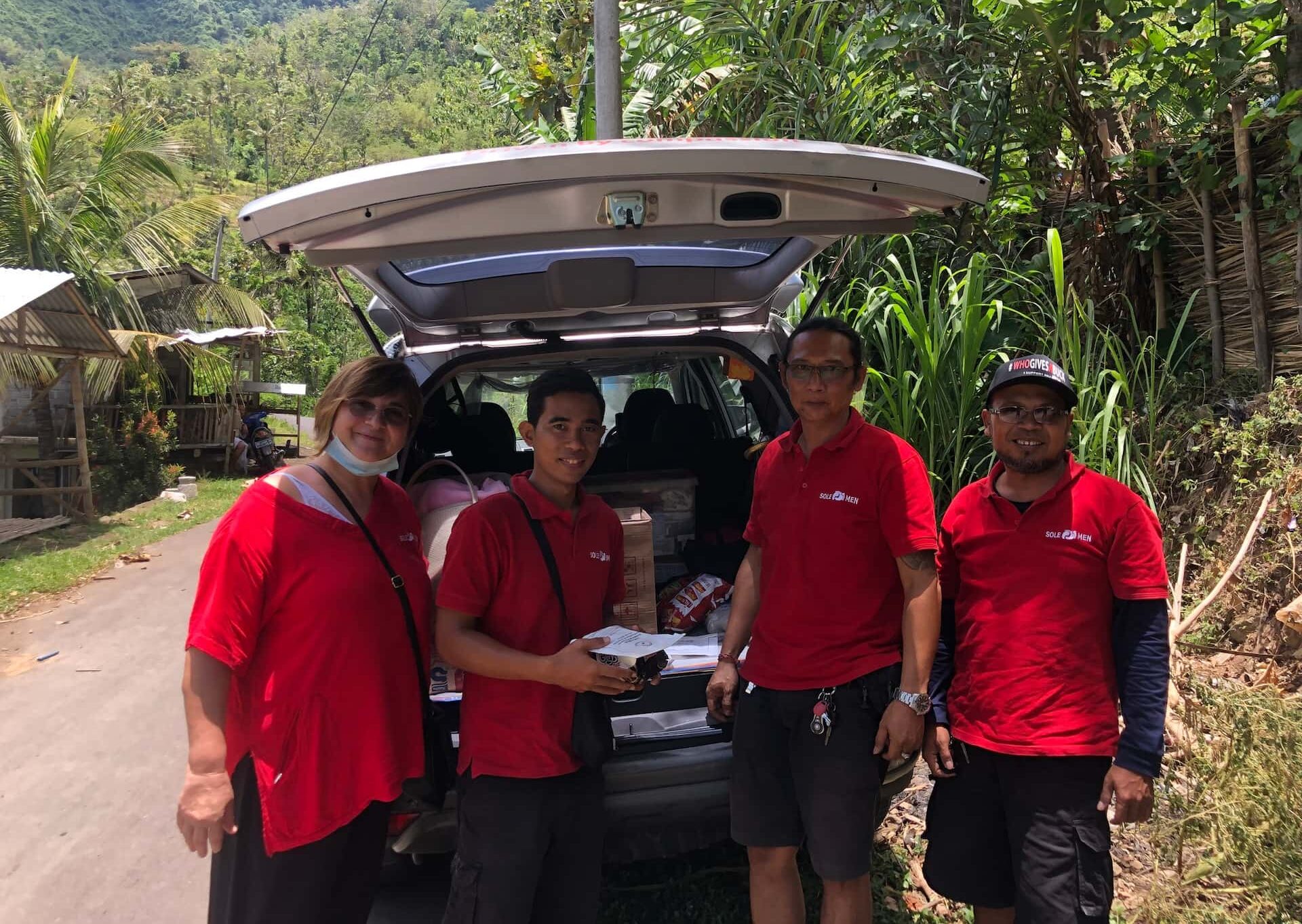 I have followed you guys for a while on social media and really appreciate the way you recognize people and companies who work with you in one way another.
Rezika Martdhania
Sometimes people ask which charities to support in Bali…This is one of the absolute 'diamonds'…Sarah Chapman and Robert Epstone do the most remarkable work – and so much of it is 'hands on'. This organisation is world class – whatever you feel you can give, small or large, will always be appreciated too.
Liz Hayes
Solemen's extraordinary actions have reminded us of the presence of unfortunate people amidst Bali's glittering tourism industry. Congratulations for Robert Epstone and team for your tremendous works!
Desy Nurhayati
Solemen are one of the most popular and respected charities in Bali
John Daniels
The Solemen team are truly amazing and the beautiful children are so blessed to have you in their lives. You are all making such a difference in so many lives…
Jan Mancini
Working with the Bali based Solemen is one of our key community activities – we are very proud of the great work they do
Peter Brampton
It's fantastic to be able as an Australian to see all the terrific work done by this highly motivated charity. I currently run and operate businesses in Bali and also Australia and it's such an honor to recommend them.
Bradley Griffiths
Thank you so much for your great work, we support you
Agung Yuniartha
We are proud to promote to our Australian audience the 'Solemen' charity and their wonderful help for the disadvantaged in Bali
Gordon O'Byrne
Many times I have published and made the articles of what Solemen do for helping the people who stay in Bali. So I will do all my best for you and support of Solemen. With all my best regards and may our God bless Solemen always
Djoko Moeljono
I am honoured to follow Solemen's lead and happy to donate my time and do more for this wonderfully refreshing cause
David Murrell
Having collaborated with Solemen l can attest they are passionate, driven and creating a really positive impact in the community.
Robert Ian Bonnick
The commitment, desire and ability of Solemen to make a positive difference to the disadvantaged in Bali is truly inspirational. Robert and his team deserve enormous praise for the way they have worked so tirelessly and with great determination to improve the lives of so many.
Jonathan Margolis
I wish to thank the wonderful souls at Solemen for the amazing amount of help they gave to a lovely boy from Lombok. He had seriously detreating eye sight and a diagnosis of future blindness within a year or so.
Lorraine Rawson
The Magic of Sarah Chapman and Solemen Foundation, Bali. There is no one like her.
Darsih Gede
Every life matters
Everyone deserves to live a fulfilling life free of pain and restraints. Everyone can contribute.
Communities are stronger when everyone is included and in unity
Family and friends are the most enduring support a person can have
Basic human rights and equality must be respected
Positive social perception of 'SoleBuddies' will be demonstrated at all times
Everyone's opinion is valued
Cultural and religious beliefs must be respected at all times. Dignity matters.
Assist people living with disabilities, mental health disorders and acute or chronic illness and their families to throughout Bali
Assess and address immediate challenges. Develop a sustainable plan based on individual family needs. Engage with local communities for their support to optimise outcomes.
Latest News and Updates From the SoleFamily
Change lives in Bali by providing access to patient-centred health services for those living with challenging physical and mental health issues whilst respecting cultural values.
Change lives in Bali by providing access to patient-centred health services for those living with challenging physical and mental health issues whilst respecting cultural values.